Mondo Sportflex is specifically designed to provide the perfect blend of slip resistance, rotational friction, ball bounce, comfort and safety for outdoor, multipurpose athletic flooring and tennis courts.
So how did Mondo accomplish that and why does Mathusek, Incorporated, consider it a top quality product?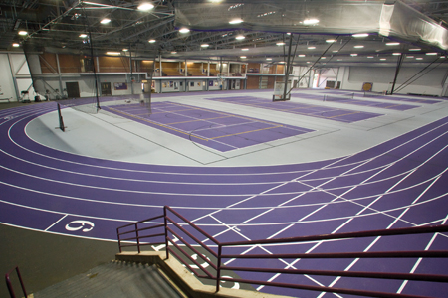 Seamless vulcanized construction, not poured on-site.
Mondo's prefabricated synthetic rubber tennis and multi-sport surfaces are made up of two layers—each with its own specific characteristics. They are then vulcanized to produce a seamless surface that eliminates the risk of later separation or de-lamination of the layers.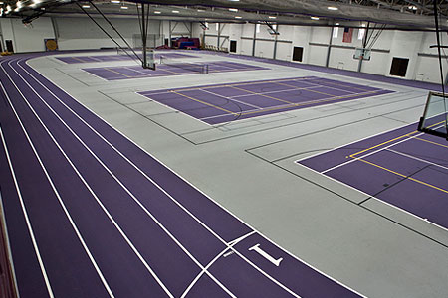 Engineered specifically for pivoting sports and heavy traffic.
Mondo engineered its floors with a rubber-based top layer for sports that require a high level of pivot movements. The nonreflecting texture also improves ball bounce and provides efficient water flow even in rainy conditions. That special formula even withstands heavy traffic, and is suitable for light spike traffic. The bottom layer consists of a waffle-shaped geometric construction to provide cushioning and energy return.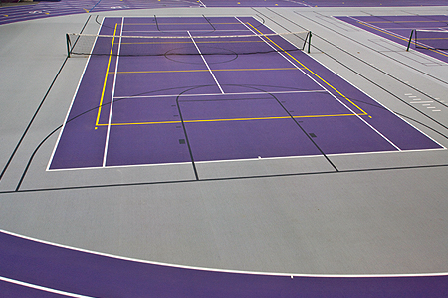 Easy to maintain and repair.
Mondo Sportflex is free of surface coatings and loose granules that might compromise traction and make it difficult to clean. Sections can be easily replaced leaving behind a virtually invisible seam.
Even weather is no problem.
Thanks to Mondo's innovative new formula, Sportflex guarantees a high weathering resistance while providing superior protection against unpredicted climate changes and extreme conditions.
Focused on sustainability.
As part of Mondo's commitment to sustainability, Sportflex has been manufactured using up to 43% post-consumer and post-industrial recycled materials, and 6% of rapidly renewable materials. Their multipurpose athletic flooring is free of halogen, CFCs, plasticizers, chlorine, heavy metals and asbestos which classifies them as GREENGUARD Gold certified, 100% recyclable and easy to dispose of after renovation.
Call Mathusek to learn more today about how Mondo Sportflex can improve your facility.
For more information about the ILS Financing Program, contact Kim White by email, or phone 800-438-1470, ext. 109.

Visit Mathusek's Financing Page to learn more about this offer.