Shiny newly finished gym floors need protection!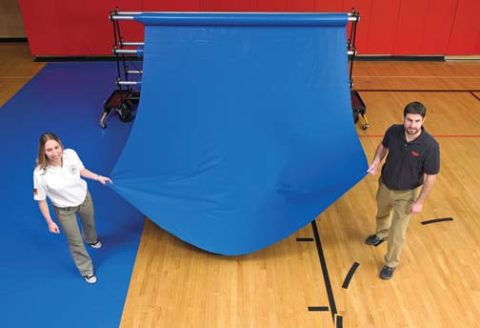 If you have just had your floors refinished, or installed a new floor, you will want to protect them from as much scuffing and scratching and dirty spills as you possibly can.  These easily installed GymGuard floor covers are the solution you need. We know that many all-purpose floors in your facilities are used for more than basketball.  We know that often there are dances, concerts, plays, graduations and other activities with a variety of footwear to challenge the new surfaces. We even know that some of the most beautiful floors are used for community events like Bingo!  You also have to deal with the impact associated with chairs and other furniture being moved about.  Mathusek has answers to help protect your investment!  Find a solution to all of these challenges with Cover Sport GymGuard floor  mats.
The GymGuard floor covers are made of ultra-durable, 3-ply fabrics, PVC-coated on both sides, polyester mesh.  The material is fire retardant to all standard fire codes and available in 15 colors and 5 weights. GymGuard floor covers are waterproof, rot and mildew resistant, and anti-fungal and anti-bacterial.  Cover Sports Floor Coverings are available in 15 colors, 5 weights and conveniently ready 10′ x 100′ sections for quick shipment.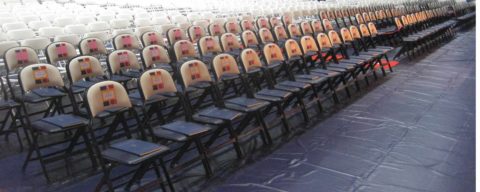 Mathusek, Inc. will find out your needs, your preferences, and the sizes of your flooring so you will have the most cost effective GymGuard floor covers for your application.
GymGuard floor covers have full warranty against fabric and manufacturer's defects.  We have many of the accessories available to facilitate the installation and storage of GymGuard floor covers.  Call us today to let us help you keep your floors protected!