These days, we interact with laser technology in all kinds of ways, from computer printing to teeth whitening to vision correction. The sports flooring industry is no exception to the laser revolution, and we at Mathusek are proud to be at the forefront of this movement. Lasers present a newer and better way of ensuring the proper flatness of concrete slabs—which act as the foundation of any flooring project.
Whether your floor is hardwood, rubber or another material, it's only as good as the concrete slab it rests on. Because flatness is such a critical component of proper installation, there are strict measurement standards in place. We'll take you through the different approaches for measuring flatness and how new laser technology has improved upon those methods. 
Method 1: Manual Measuring
The old method of determining floor flatness was accomplished in a very rudimentary way—with a ruler and a straightedge. The installer would place a 10 foot straightedge on the surface of the concrete and then measure the gaps between the straightedge and the concrete with a ruler. Not only is this manual method labor intensive and time consuming, but it also carries a fair amount of human error.
Method 2: The FF/FL Method
To avoid the problems related to the straightedge approach, Allen Face devised a rigorous new statistically-based system in 1985. The commonly used floor flatness/floor levelness (FF/FL) approach requires the creation of a grid on the concrete slab, followed by manual readings.
The FF/FL method is not accepted for sports flooring by the MFMA.  The floor must meet a tolerance of +/- 1/8" in a ten foot radius.
Method 3: Laser Readings
Mathusek now uses laser technology to measure floor flatness with speed, precision and incredible accuracy. Once the concrete slab dries, we use a laser level to take grid readings every five feet in order to pinpoint problem areas. Each area of deviation is circled, measured and marked to indicate how much the floor is off. This allows us to accurately correct out-of-specification conditions in the slab as early as possible using self-leveling compounds.
Diagram Resulting from Laser Leveling for Concrete Slabs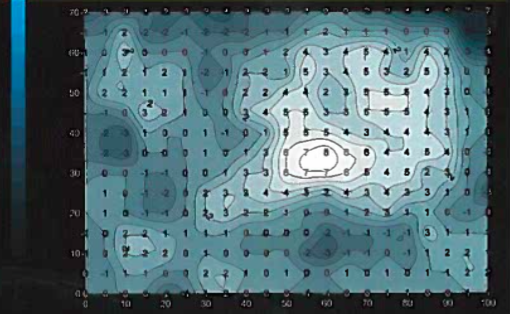 To learn more about how Mathusek can ensure your concrete flatness via laser technology, contact us today.
For more information about the ILS Financing Program, contact Kim White by email, or phone 800-438-1470, ext. 109.

Visit Mathusek's Financing Page to learn more about this offer.