Introducing Our Latest Wood Flooring Product!
At Mathusek Incorporated, we are always looking for the latest in innovation in the flooring industry. In 2020 we came across a solution to many facilities flooring problems.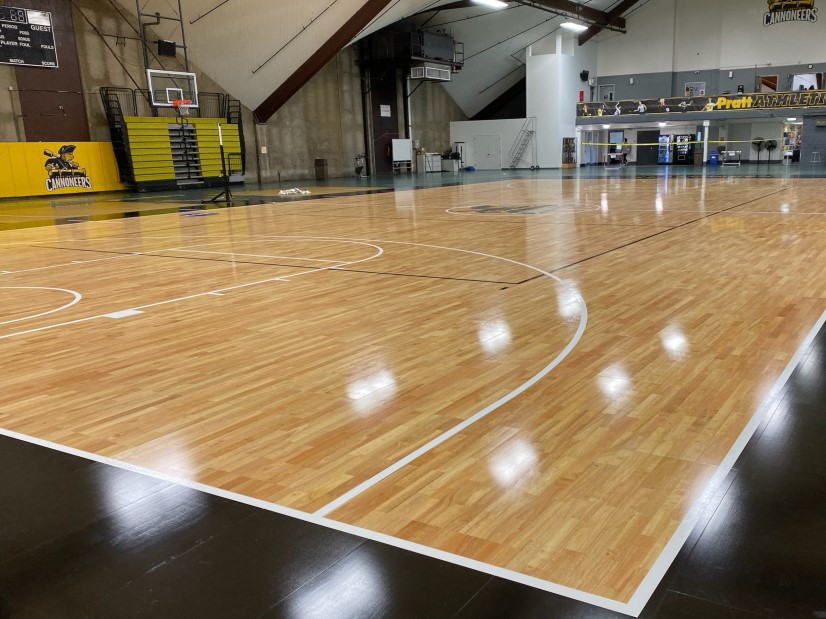 Common Problems with Wood Flooring Installations
Problem: I've been researching wood floor installations for my facility, but I can't find a product that fits within our budget. I don't want to sacrifice real wood for anything else if I don't have to.
Solution: Our system is extremely cost-effective. Since we can install in less than half the normal installation time, the overall cost drops dramatically! To give you a bit of an idea, this product has been installed at a rate of 3,000sf a day! A 6,000sf gym normally takes about 4 weeks to fully install, including custom lines and artwork.

Watch how fast this floor is being installed! Wood Floor Installation
Problem: I love the look of wood floors, but we can't find time in our schedule to close our facility down due to dust and fumes.
Solution: No problem for us! Our wood is pre-sanded and pre-sealed before it even gets to your facility. There is absolutely no job site sanding & sealing with this flooring system. This is one of the reasons that these floors are installed so quickly!
Problem: You say there are no fumes. What if I want custom court markings painted?
Solution: In that case, we would install your floor (pre-sanded and pre-finished), and paint your lines directly over the factory final sealer coats using epoxy paint. There is no further top coats necessary.
Problem: I'm having a hard time finding a good portable wood floor for my facility.
Solution: Look no further! Our Portable floors come pre-sanded and pre-sealed. We even paint custom game lines and logo's before it arrives in your facility.
Problem: This all sounds great, but don't wood floors need time to acclimate to it's new environment?
Solution: No! our floors are pre-acclimated. When they get to your facility, they are already highly resistant to swelling and shrinking.
Still have questions about this product? Call our office today.
Phillip or Warren Mathusek is happy to answer any questions you may have.
201.405.0004


[email protected]




[email protected]