Many schools and buildings built before the 1980s contain Vinyl Asbestos Tile (VAT) that has begun to deteriorate and is in need of asbestos abatement or asbestos encapsulation.  VAT was the material of choice for institutional flooring applications from the 1950s through the '80s because of its insulating and fire-retarding properties.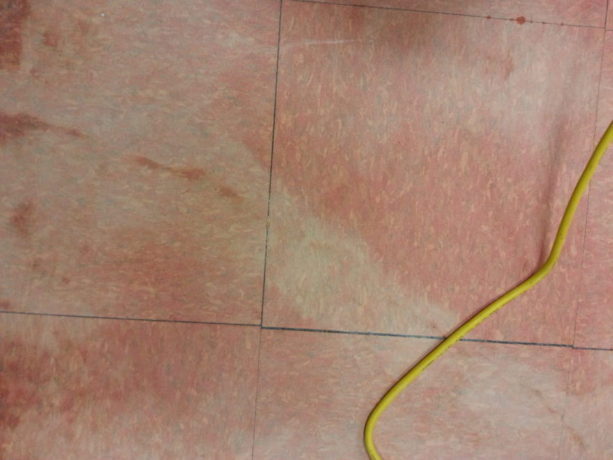 In 1986, the Asbestos Hazard Emergency Response Act was passed requiring every U.S. school from kindergarten through 12th grade to be inspected to identify and document the presence of asbestos-containing building materials in all school facilities.
What does our facility need to consider regarding asbestos in our building?
Q: How much asbestos is in my VAT tiles?
A:  VAT itself actually contains only about 5%-25% asbestos' but the adhesive used to affix it to the floor/wall is laden with it. When you "abate" asbestos tile, both the tile and adhesive must be removed. Not only is abatement very costly, but it requires isolating the work area for extended periods.
Q:

 

What does asbestos abatement mean?
A: This inconvenient and hazardous demolition should be undertaken by a professional abatement team and can be costly and time-consuming.  Demolition alone can run up to $50 per square foot on top of fees for transportation and disposal of the materials in hazmat-approved landfills. Additionally, the paperwork required to comply with OSHA, EPA, and varying state regulatory guidelines can be overwhelming.
While the ideal solution is to abate asbestos in conjunction with planned major renovations, this is not always economically or logistically feasible and in some instances may not be as effective as alternative methods such as asbestos encapsulation.
Q: What is the alternative to asbestos abatement?
A: The alternative to demolition is asbestos encapsulation, which entails sealing the material within a protective shell. This approach is much less costly than demolition and is the better option where the tile is still intact.
While some professionals may suggest covering asbestos floors with materials such as carpet, carpet tiles, peel-and-press tiles, and other coverings, this does not completely encapsulate contain asbestos fibers — nor does it prevent further damage to the underlying mastic and tiles. Properly encapsulating or sealing asbestos is the most effective method for preventing asbestos contamination because it binds the fibers together. As long as the original tiles are intact, there's no health danger in using this method.
Q:

 

What if my VAT tiles are damaged or crumbling?
If your tiles are friable, meaning they are breaking up into small pieces or are can be ground down to a powder or dust with ordinary hand pressure, you cannot encapsulate them and you should contact an asbestos abatement team immediately. Unfortunately, if you let your floor degrade to that point, abatement is your only option. The key is to encapsulate your floor before it's too late!
Q: What does Mathusek recommend for asbestos encapsulation?
A:  Mathusek recommends Herculan IG floors from Action Floor Systems. It is a safe, economical, and effective choice that can be installed in a few days without disturbing existing VAT installations.
Q:

 

What are the benefits of using Herculan IG for asbestos encapsulation?
A:  The reasons are:
To Save Money
Abatement entails costly procedures in addition to the undefinable cost of losing the of use of the space.  Herculan IG is a cost-effective alternative with a multitude of benefits.
In addition, a recent case study conducted by the Institute of Inspection Cleaning and Restoration Certification estimated the cost of maintaining VAT tile floors is 7.5% higher than that of other hard surfaces like Herculan IG. Over a 10 years period, that means you can save 75% just from maintenance alone when you encapsulate your floor.
What's my cost savings by encapsulating with Herculan IG over total abatement?

Savings of opting for Herculan IG encapsulation over abatement can be calculated using the following formula:

[square foot cost of asbestos abatement] – [square foot cost of IG] x [total square feet to be abated] = [savings]

What's my lifecycle cost savings by using Herculan IG over VCT?

Depending on the size of the space, this can amount to hundreds of thousands of dollars over the years!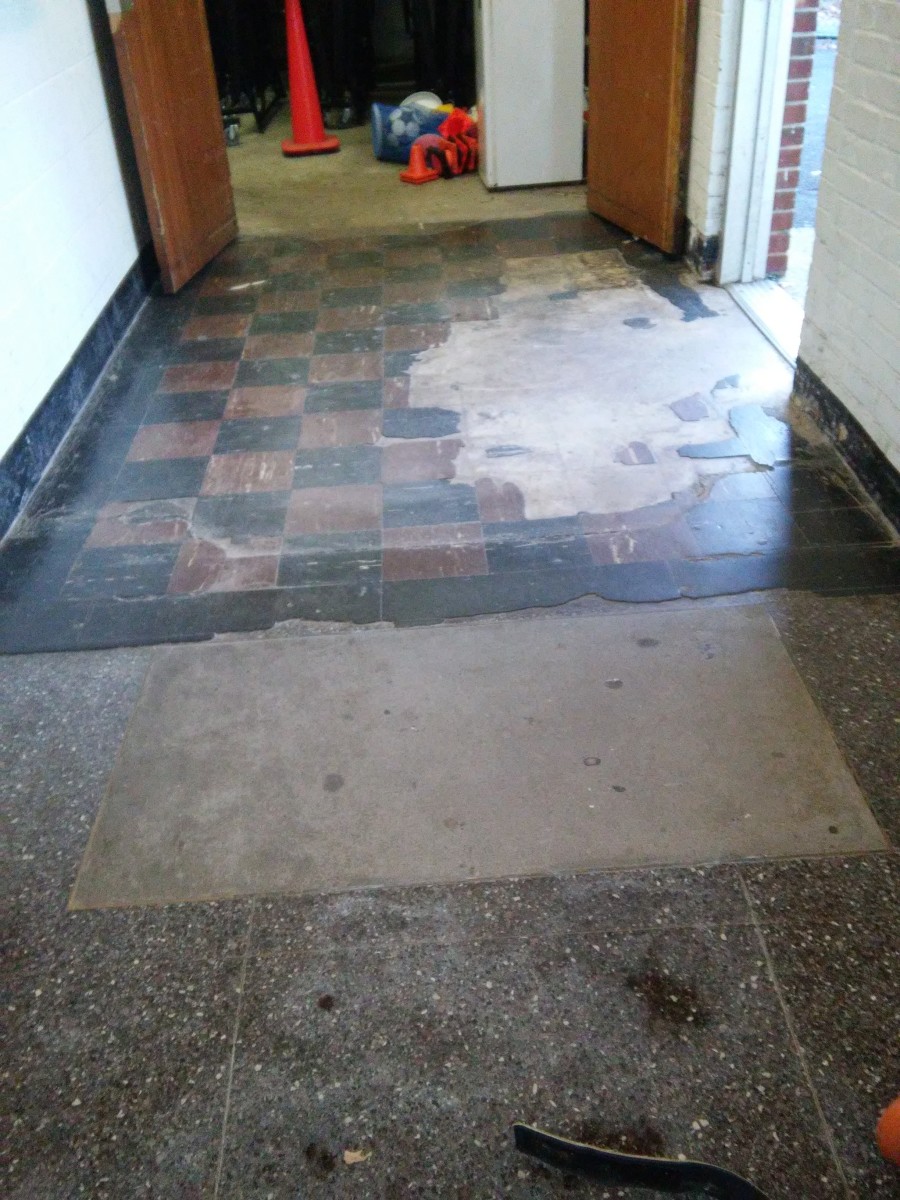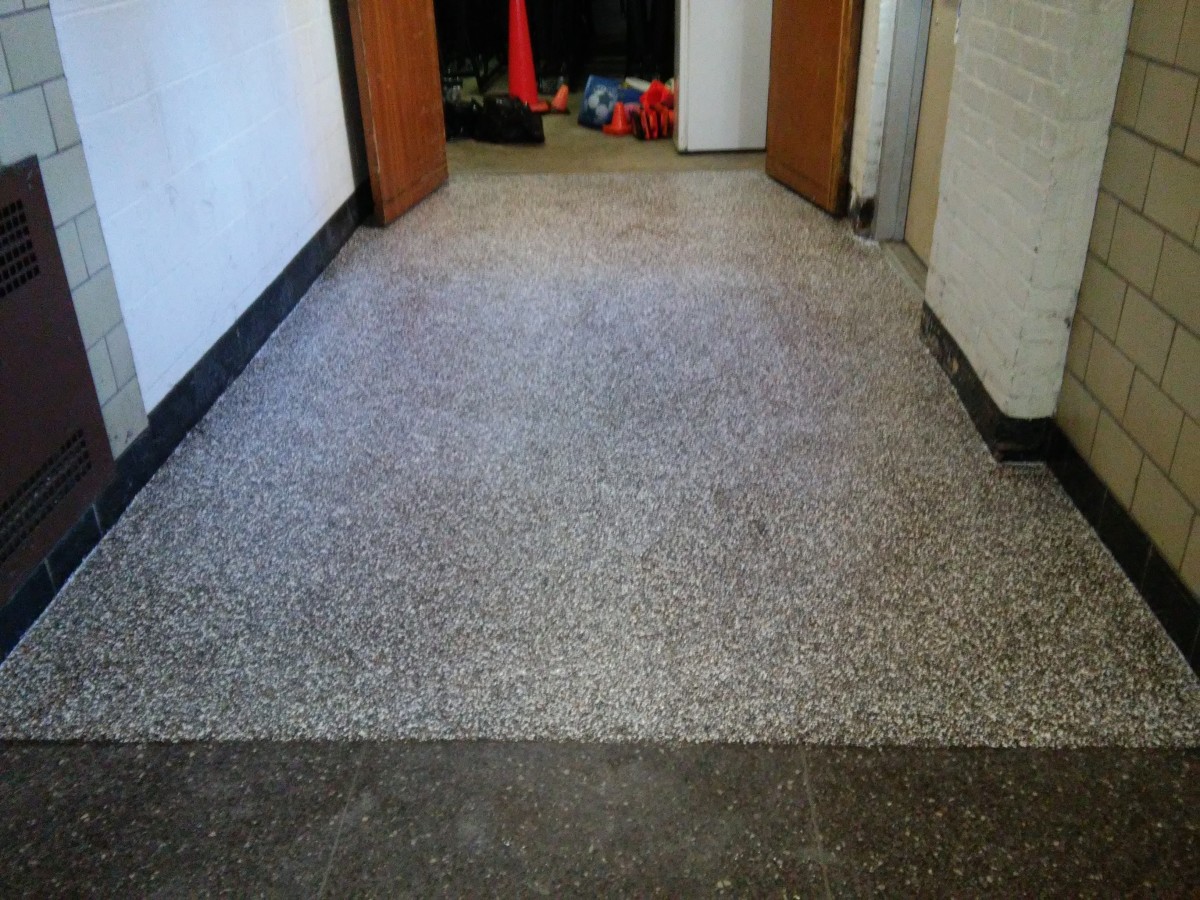 It's a Quick and Easy Installation
Herculan IG takes only days to install and is ready for regular use very soon after! There is no need to close off large areas for weeks or months as work can be done one area at a time.
What's more, since its nontoxic top coat is free of volatile organic compounds (VOCs), IG can be installed year-round without the need to open windows or evacuate the facility.
It's Safe
Since Herculan IG is 100% water-based, odor-free, and environmentally friendly, you can conduct business as usual, whereas asbestos demolition requires evacuation and can take weeks or months and must be done during warmer months to ensure adequate ventilation.
Similarly, Herculan IG is seamless and nonporous once installed, hence it is ideal for environments that must be kept clean and germ-free.
It's Durable
Your entire school, including hallways, entranceways, bathrooms, cafeterias and kitchens, take a pounding from heavy foot traffic as well as from furnitures and fixtures.  Herculan IG is highly stain-resistant and wear-resistant, and its surface is non-porous and anti-slip.
It Looks Great
Your school or business can choose from all RAL colors, a range of finishes (from textured to smooth), and integrated color accents and designs including logos or mascots.
With all the benefits that Herculan IG asbestos encapsulation has to offer, it should be easier to remedy your asbestos problem before it adds up to a fiscal crisis. Contact Mathusek to learn more about this easy and affordable solution.
FLOORING. PROBLEMS. SOLVED.