They say practice makes perfect, right? But in order to for runners to practice properly, they need a sport flooring surface that will give them the optimum blend of energy return, comfort, safety and durability. Enter Mondo Super X—Mathusek's chosen vendor for field house flooring that's ideal for both competition and training purposes.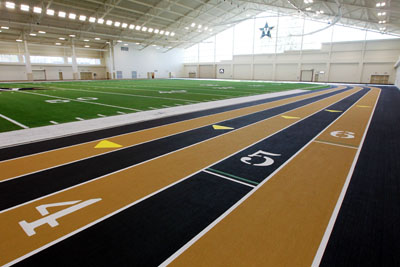 Unique Construction
Super X is a prefabricated synthetic rubber track surface composed of two different layers vulcanized together for a continuous, seamless piece of material. Often copied but never matched, the rubber-based top layer provides unparalleled elasticity along with excellent slip-resistance and traction. The bottom layer consists of a waffle-shaped geometric construction, deformable in two dimensions, providing cushioning and energy return for runners.
Ideal Training Ground
Pre-manufactured in a controlled factory environment, Super X offers uniform thickness—as well as uniform technical characteristics—over the entire surface of the track. This results in constant dynamic response that gives athletes complete control over stride length, running rhythm and balance, so they get the most out of their training sessions.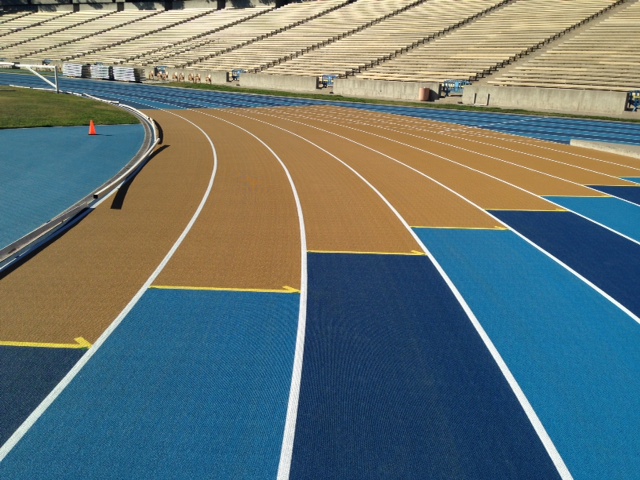 Outrunning the Competition
Can track surfaces really offer an advantage? Tests have shown that athletes have a longer stride on Mondo than on other track surfaces. This means that runners who compete on Mondo without training on it could over-stretch their muscles, or could miscalculate their stride in jump and hurdle events.
Easy to Maintain
Free of surface coatings and loose granules that might compromise traction and make the material difficult to clean, Super X is a great choice for facilities looking for easy maintenance. Damaged sections of material can be replaced with identical material, leaving a virtually invisible seam.
A Sustainable Choice
Containing up to 12% of post-consumer recycled materials—along with up to 10% of rapidly renewable materials—Super X is considered a "green" choice for facilities interested in sustainability.
To learn if Mondo Super X could be the right training surface for your field house facility, contact the installation experts at Mathusek today.
For more information about the ILS Financing Program, contact Kim White by email, or phone 800-438-1470, ext. 109.

Visit Mathusek's Financing Page to learn more about this offer.