Does your exhibit hall need to double as a roller hockey rink? Does your basketball court need to convert into a science fair filled with chairs, tables and people in street shoes? Does your school cafeteria need to clean up for a spin class fundraiser on Friday night? Exhibit halls, gyms, sports arenas and lunch rooms often serve as multi-use spaces, and durable flooring makes it work. Facilities need an environmentally-friendly multipurpose sport floor that supports green building initiatives and provides a padded surface that can withstand anything.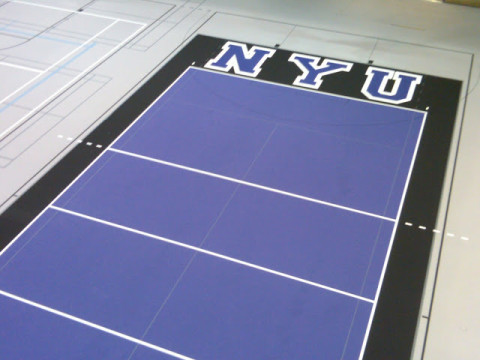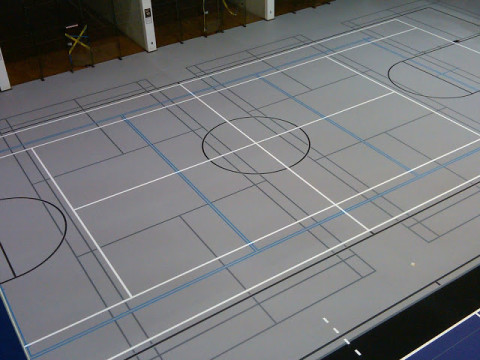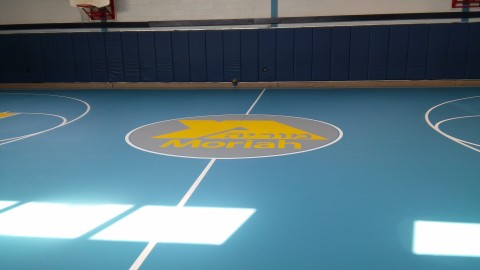 The Action Herculan® Synthetic Polyurethane Floor is an ideal multipurpose sport floor that is also multi-function. It's environmentally friendly and its physical properties for elongation, tensile and tear are outstanding, especially when compared to other synthetic options.  Its adhesion and water resistance are unmatched by any other flooring. It comes in 14 colors and game markers can be completed in a wide variety of line-marking colors. Plus Action's padded polyurethane flooring is the most cost effective for a range of applications.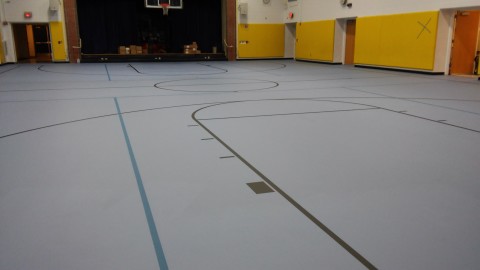 There are many types of Action Herculan® Synthetic Polyurethane Flooring, and your expert installers at Mathusek will help you choose the best flooring for your application. MF and MF 800 series flooring has been tested for all indoor sports. SR is spike resistant. RH is made for roller hockey. TC is made for an indoor tennis court. PE is made for a diverse range of group fitness class activities. RT (re-top) overlays existing sport flooring that is cracked or worn. Combination installs a premium maple sports floor with padded polyurethane floor surfaces. All Action Herculan® multipurpose sport flooring is eco-friendly, easy to clean and a cinch to resurface.
Learn more about Action Herculan® Synthetic Polyurethane Floor specs at ActionFloors.com.
How do we install multipurpose sport floors? Mathusek installs new flooring during a five day process with an additional five days needed for curation. In as little as ten business days, you can go from old flooring to a brand new multipurpose sport floor that'll last a very long time. Here are Mathusek's seven steps for an safe, hassle free multipurpose sport floor installation:
Step One – Surface Preparation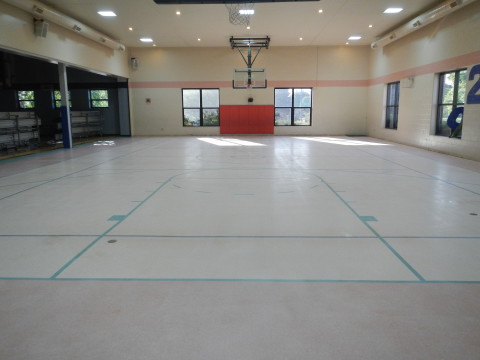 Herculan MF is typically installed on new concrete, but it can be installed on VAT tile, assuming the tiles are well adhered and not showing any signs of de-lamination. Also a Herculan® can be installed over top of an existing poured-in-place urethane floor, sheet rubber or sheet vinyl.
Step Two- Installation of Pad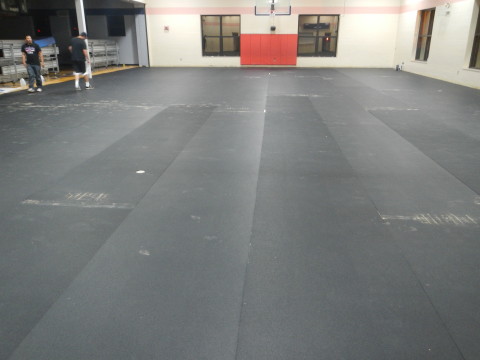 Adhere the rubber to the surface after the appropriate preparation (appropriate preparation will depend on floor type). Rubber sheets should not have a compression fit, but rather a touch fit.
Step Three – Seal Coat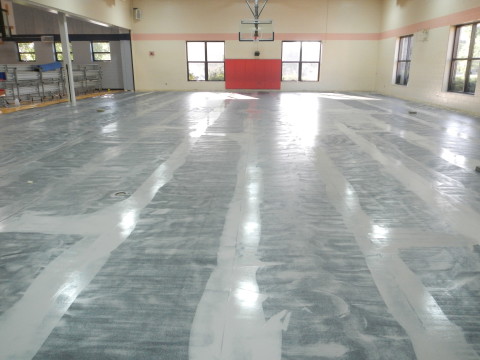 Seal the floor. This step is typically accomplished on our hands and knees so that the sealer is pressed into the pores of the rubber, thereby ensuring complete coverage. This step is the most important step because if the pad is not sealed, related problems will occur in the next steps. Notice that the seams for the rolls have been given extra attention. This is to avoid any telegraphing of the seams through the final paint surface.
Step Four – Resin Layer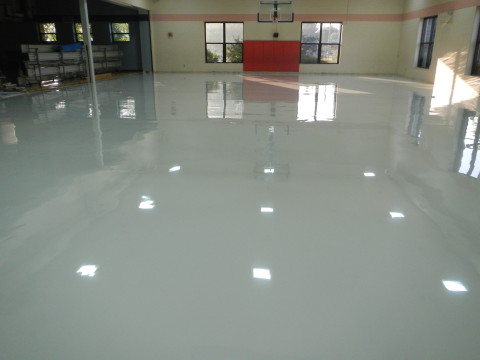 Pour the structural resin layer. In this step is important to make sure there is enough resin.  Running out of resin before the end of the room is a problem. We're mindful of bucket count.
Step Five – Wear / Top Coat Layer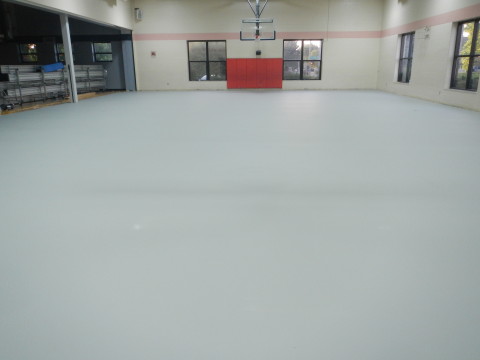 Topcoat the floor. This is the application of the wear layer and is similar to the application of a urethane coat on a gym floor. This layer will be what is worn off through the years and can be resurfaced over and over again, making the padded polyurethane a durable floor for life.
Step Six – Game Lines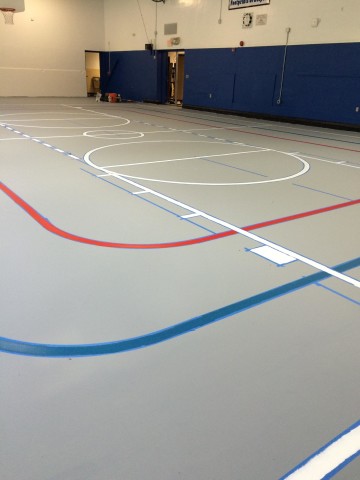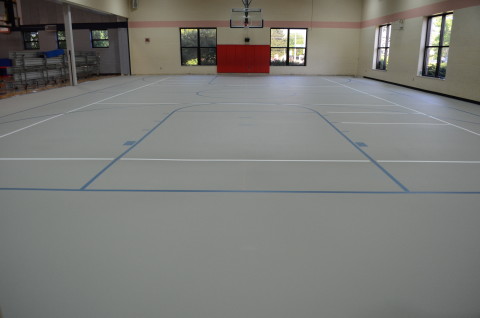 Game line the floor. One unique aspect of a padded polyurethane floor is the topcoat (wear layer) is the same material as the game lines. When game lines are applied, they chemically (not mechanically) bond to the topcoat.  As a result, the game lines will last as long as the topcoat.
How long do topcoats and game lines last?  They last for ~15 years.  After that time a new topcoat and new game lines are applied, making the durable floor last for approximately ~15 years.
Step Seven – Curing
Let the floor cure for five days after logo and game lines are applied. Then it's ready for use.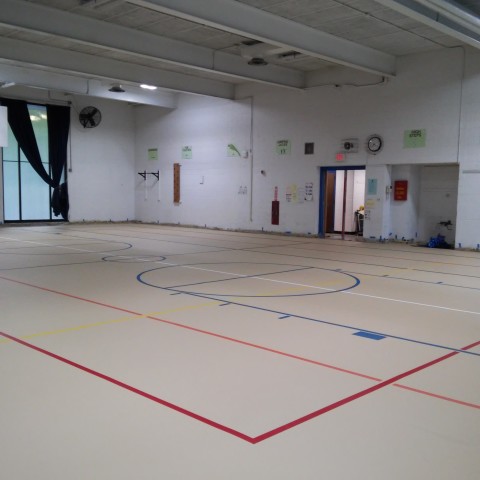 Questions about multipurpose padded polyurethane floors? Contact us or call 1-201-405-0004.
For more information about the ILS Financing Program, contact Kim White by email, or phone 800-438-1470, ext. 109.

Visit Mathusek's Financing Page to learn more about this offer.