Hardwood sports flooring is often considered the gold standard for most indoor gymnasiums. But many facilities managers question whether or not it's the right option given the initial start-up investment. While it's true that installation costs for hardwood sports flooring are typically higher than that of other flooring alternatives, there is a bit more to the story. It all comes down to lifecycle. Always a critical criterion when comparing different types of flooring, the lifecycle factor takes into account initial installation costs along with other considerations, like longevity and maintenance.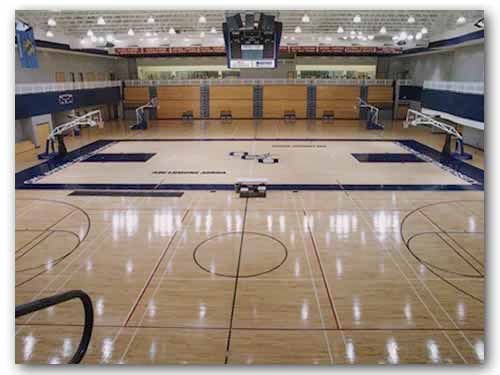 Installation
According to most estimates, hardwood sports flooring is indeed the pricier option for initial installation. On average, hardwood costs about 20 percent more than PVC and about 40 percent more than Poured Urethane. But of course, start-up costs don't present the full picture. 
Longevity
According to a study done back in 2003 by the MFMA—which still holds true today—maple hardwood sports floors have an average life expectancy of 38 years compared with 15 years for PVC. Another study in Cornerstones Magazine puts the life expectancy of wood sport floors at 50 years vs. 20 years for synthetic sports floors. In either case, the lifespan of hardwood is well more than double that of PVC.
Regular Maintenance
Another big factor that comes into play is maintenance. All types of flooring—whether hardwood or synthetic—must be kept clean and free of dust on a daily basis in order to provide proper traction for athletes. Synthetic floors must be scrubbed biweekly with a chemical cleaner, scrubbed and recoated on a quarterly basis, and then stripped and recoated on an annual basis. Hardwood, floors, on the other hand, only require special maintenance on an annual basis, when they must be screened and recoated. All told, facilities managers will spend about 45% more per year maintaining a synthetic floor vs. hardwood, given the extra biweekly and quarterly services that are needed for synthetic.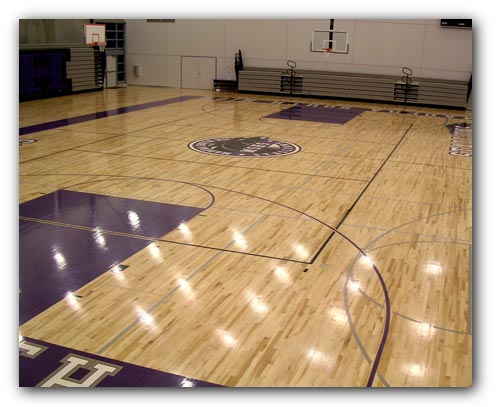 Major Maintenance
Over time, hardwood floors will start to show wear and tear, such as darker coloring or game-lines that are not as bright as they used to be. After about 10-15 years, hardwood floors should be sanded down to bare wood, resealed, repainted and refinished. PVC floors, with a life expectancy of 15 years, are better off being replaced that resurfaced. Poured Urethane floors—which, like hardwood, last about 38 years—must be resurfaced every 10 years. Amortized over the same 38-year life expectancy, major maintenance for Poured Urethane costs three times as much as major maintenance for hardwood.
The Bottom Line
When compared with hardwood, lifecycle costs are 42% higher for PVC and 40% higher for Poured Urethane. This goes to show why it's always important to do a complete lifecycle analysis before making a decision on sports flooring.
Be sure to contact Mathusek to learn more about the long-term financial advantages of hardwood.
For more information about the ILS Financing Program, contact Kim White by email, or phone 800-438-1470, ext. 109.

Visit Mathusek's Financing Page to learn more about this offer.