Few people know it, but the running tracks at the London 2012 and Beijing 2008 Olympic games were made of Mondotrack. Designed to deliver an optimal combination of energy return and comfort for both high-speed sprint events and low-speed middle and long-distance events, Mondotrack athletic flooring assures superior performance.
To top it off, Mondotrack also provide the ideal combination of shock absorption and rebound elasticity for jump events.
These are some of the reasons that Mathusek, Incorporated relies on Mondotrack for it's enterprise-level projects.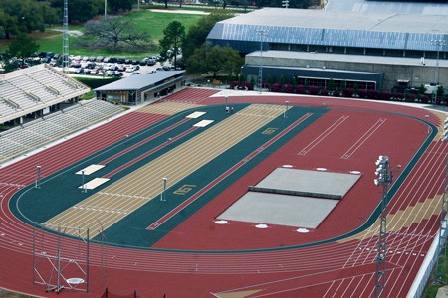 The Bowstring Effect boosts athletic performance.
Not only does the rubber-based top layer provide outstanding elasticity, but the unique, non-directional surface embossing provides greater contact area than other rubber track surfaces. And the surface is excellent even in rainy conditions—slip-resistance and traction are so enhanced it eliminates the need for athletes to wear metal spikes.
But when they use compression spikes, athletes' ability to deflect and recover acts like a bowstring, literally launching them away from the surface and lengthening their strides. In low-speed events the greater contact area also allows for localized pressure reduction and improved foot comfort.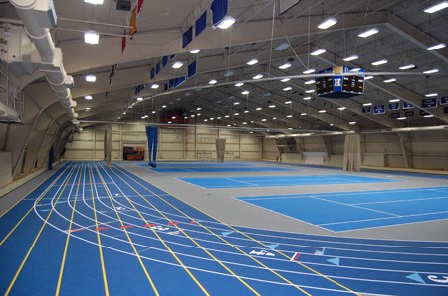 Consistent biomechanics response for improved running rhythm and balance.
Mondotrack is pre-manufactured in a controlled environment guaranteeing uniform thickness, for constant dynamic response and absence of variable spots that might disrupt an athlete's stride. This translates to controlled stride length, improved running rhythm and balance, reduced fatigue, and overall better performance and comfort.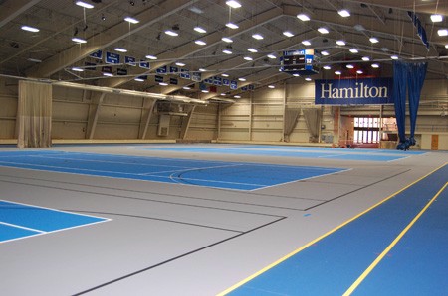 Three-dimensional deforming geometry translates into more energy.
The bottom layer of Mondotrack consists of an elongated honeycomb-shaped geometric providing an optimal blend of cushioning, energy storage, and energy return. Depending on the type of stress generated by the athlete, the cell walls deform to minimize the impact force, converting the maximum amount of kinetic energy into stored energy, which is released back to the athlete the moment their foot leaves the surface.
At the same time, the lateral deformation of the cell walls helps to reduce the time interval required to complete the rolling of the foot between the 5th metatarsus and the 1st metatarsus. This gives athlete continuous support, minimizing the time their foot is on the ground resulting in more energy.
Three-dimensional deforming geometry also means high resistance to weathering.
Thanks to our innovative formula, Mondotrack flooring guarantees a substantial improvement in weathering resistance, and provides superior protection against unpredicted climate changes and extreme weather.
Call Mathusek to learn more about Mondotrack and if it is a good fit for your facility.
For more information about the ILS Financing Program, contact Kim White by email, or phone 800-438-1470, ext. 109.

Visit Mathusek's Financing Page to learn more about this offer.